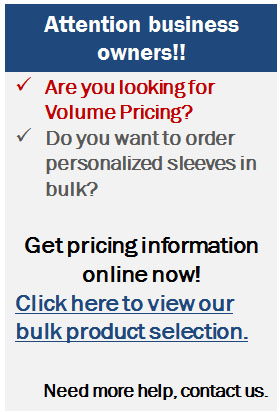 Other Uses
Did You Know you can use our products even if you don't have RFID enabled credit cards?
Choose from our many themed Credit Card or Passport Sleeves to give you that unique personality, with the added benefits of RFID blocking technology.
Animal
Car
Clipart
Desert
Holiday
Landscape
Mountian
Nature
NewAge
Retro
Tropical
PREVENT RFID WIRELESS IDENTITY THEFT
Our Products Can Block RFID and Prevent Electronic Pickpocketing


Did you know YOUR Personal Information could be AT RISK!

Your credit cards, drivers license, passports, etc... may contain an RFID chip that contains your personal information.




The Radio Frequency ID ( RFID ) chip in a credit or debit card contains the account number, expiration date and other information.

RFID chips can typically be read through purses, wallets, clothing and more unlike magentic strips.

With the right equipment, somebody could obtain this information from this chip without your knowledge or permission.




Common Products that use RFID:

US Border / Passport Cards

Enhanced Drivers Licenses






PRICING AS LOW AS $.30 each!! Visit our Bulk & Wholesale Pricing
Product Of The Month.. Save 20% off List Price
Don't use aluminum foil
Our sleeve products are made from durable paper infused with a special alloy that help block the radio signals needed to read the information contained on these chips.
We stride to keep our prices low while providing features that others might not offer, such as printed themes, personlization, and wholesale selections.
RFID Wallet vs RFID Protection Sleeves
Which is better? Learn the pros and cons for both and read why TheftDefender RFID Protection Sleeves are better. Read More...
RFID Chips in Credit Cards & Passports... Sure it's Fast & Easy,
Credit Cards? Over 200 million cards in the United States have both a RFID chip AND Magentic strip. Information stored on credit cards typically includes name, address, zip code, account/card number, expiration date, csv number, and sometimes your maiden name…often used for validation pruposes. Since 2009... some banks issue a unique serial number to identify you in efforts to fight crime avoiding expensive encryption technologies, but even with this concept, a theif who has access to point of purchase terminals can still retreive and use your information.
Why? Leading retailers will target digital advertisting in stores while you shop in addition to using RFID tags both as security sensors and product pricing for the self-checkout and automatic payment methods using your RFID enabled credit card, phone or passport.

Passports & Drivers Licenses? The US government has implemented RFID chips in both passports and drivers licenses in efforts to become more standard with other countries. They have been proactive in recognizing the need to protect information on their RFID chips due to inherient risks of RFID contactless chips, so they have instituted a policy to provide RFID protective sleeves, similar to the ones we sell when you get a new passport or drivers license.